Fashion is a form of ugliness so intolerable that we have to alter it every six months.
Oscar Wilde.
I couldn't agree more. To illustrate this quotation, I will provide you with some images of various fashion trends that define the word 'ugly.'
Peg leg pants/harems/ankle grazers
I would recommend any of these if you wish to:
- Shorten and fatten your legs
- Wear unsightly and oddly shaped trousers which crease and bulge in peculiar places
- Create the illusion of a very low down pregnant bulge
- Look like a douche.
Fur gilets (especially black ones)
Great for looking like a gorilla.
Jumpsuits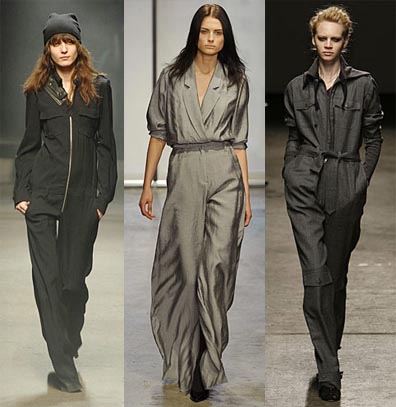 Baggy, manly, builderish. Ugly.
Whatever the hell this is
£25, Topshop.
So one aspect of fashion I hate is the ugliness and blatant disregard for the female figure displayed in some of its creations.
Another aspect I hate: the way some people put together the most vile 'pieces,' look like a blemange or a general douche and are then called fashionable. Hey, anyone can do it: simply pair a knee length bright floral skirt with a paint splatted velvet crop, add a faux fur belt, some jacquard leggings, and, say, a purple fascinator. Not forgetting, of course, some faded brown scruffy lace ups and grey pulled up ankle socks. How artistic; how, creative and daring yet beautiful? Troll through pretty much every single fashion blog in the world or lookbook etc, and you will find versions of this. But hey, fashion isn't about looking good in clothes! It's about - looking shit...?
On another note, here are some good things I have stumbled upon today that made me feel happy.
- California Select's ebay store. Ignoring the £8 postage
- Oxfam online - actual nice vintage stuff you can get online
- These lovelies from Topshop:
- sold out in my size, weep :(
x